Le Vagabond des Limbes a inspiré, nous l'avons déjà vu à diverses reprises sur ce blog, plusieurs publications très élaborées dans le registre de la psychanalyse, sous l'égide de l'éminent Docteur Roger Moukalou.
Nouvel élément à porter au dossier en ce qui concerne le rayonnement de cette saga de par le monde, et son impact fantastique sur de nombreux champs de recherche, intéressons-nous aujourd'hui à ce courrier élogieux adressé au service abonnements du journal Pilote, au début des années 80, par le Docteur J. Barraud, Professeur Emérite des Universités et membre de la Société de Recherches psychothérapiques de Langue Française. Mais aussi, selon toutes apparences, lecteur passionné, et qui n'hésite pas à discerner hardiment dans la thématique du Vagabond des Limbes une exploration de la métaphysique.
Auriez-vous imaginé, vous, que Musky puisse être envisagée comme une manifestation de l'anima d'Axle ?
(Réponses sur papier libre. Vous avez deux heures).
La prochaine fois que vous vous ferez surprendre en train de dévorer un album du Vagabond au lieu de sortir le chien, finir cette rédaction urgente ou monter comme promis cette étagère Ikéa qui vous attend avec impatience, répondez donc sans hésiter que, mais bien sûr que non, voyons, vous n'êtes pas en train de lire une bande dessinée en cachette : vous, vous explorez la Psychologie des Profondeurs. Non mais !
Preuve supplémentaire, s'il en était besoin, de la qualité incontestable du lectorat du Vagabond des Limbes et des multiples niveaux de lecture qu'offre cette série - mais cela, tout à fait entre nous, on le subodorait déjà, n'est-ce pas ?
---------------------------------------------------------------------------------------
The Vagabond of Limbo has inspired, as we have seen several times earlier on throughout this blog, many detailed psychoanalytic books and studies by the eminent Dr Roger Moukalou.
Today, we are adding a new piece of evidence to support our claims regarding the amazing impact this long-running saga has had around the world, in numerous research fields.
Let us consider this enthusiastic letter, sent by Dr J. Barraud - Emeritus Professor of the French Universities and a member of the Society of French Language Psychotherapy Research, but also an avid reader of the Vagabond of Limbo series, in which he sees an exploration of Metaphysics, no less.
Would you have imagined Musky could be envisioned as a manifestation of Axles's anima ?
(Answers on separate sheets of paper please. You have two hours).
So, next time you get caught reading a Vagabond of Limbo comic book instead of walking the dog, completing your urgent homework, or assembling that Ikea shelf as promised, you may answer without hesitation: of course you're not skipping work and having fun reading comics - actually, you are busy exploring the Psychology of Depths. So there !
This points out additional evidence, if need be, of the unquestionable, high-end quality of the Vagabond's readership - but, just between us, we suspected as much, didn't we?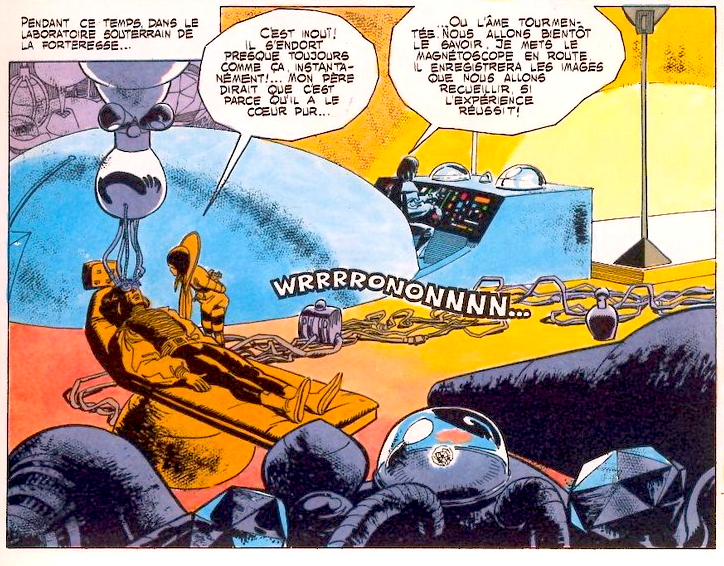 To be informed of the latest articles, subscribe: