A shrewd and glamorous woman devoted to ambition and the quest for power, Aremihc has decided very early on to stake her claim on Axle Munshine and use her talents to help further his political career. She is a member of the Superior Council of the Guild, and she hails from the Mandorla Constellation, a place where women have strange and scary abilities.
It is no accident if her name is 'Chimera' spelt backwards : she is her complete opposite.
As dark as Chimera is fair, as cruel as her rival in love is vulnerable, Aremihc has a natural talent for intrigue and never stops plotting to catch the Vagabond of Limbo, one way or the other.
Axle has left her behind without a second thought, just to chase a crazy dream, even though Aremihc had given him the ultimate proof of her devotion : she killed to protect him, with the help of her secret weapon – killer bees she keeps hidden within her throat.
But, as they say, Hell hath no fury like a woman scorned, and Aremihc is no exception...
She shall never forgive Axle for abandoning her, and overnight she'll turn into one of his fiercest enemies.
From then on, she will hunt him down with a vengeance, for as long as she lives.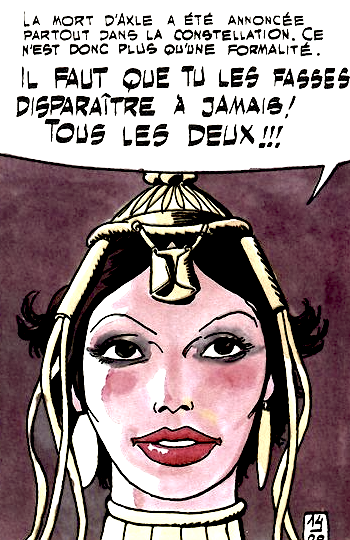 Pour être informé des derniers articles, inscrivez vous :